The year of the 100th anniversary of Gandhi's birth has come. And nations all over the world are paying homage to this scientist of human soul who experimented in discovering the power of truth and nonvoilence.
this month let us hear his voice and read his writing. Here you will see the gandhiji's photograph with a small boy and after that photograph you will find links to gandhiji's voice and the writings.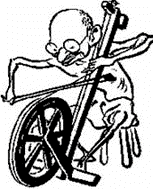 "We are constantly being astonished at the amazing discoveries in the field of violence. But I maintain that far more undreamt-of and seemingly impossible discoveries will be made in the field of nonviolence."
--M. K. Gandhi